CNC Routing
Manufacturing Capabilities
Optic Armor Performance Windows has a wide range of capabilities in high optical quality windows products, specializing in shatter-proof products fabricated from polycarbonate. Optic Armor Performance Windows has quickly gained a reputation for being the leader in this field. We have capability to manufacture optical quality windows products in house from start to finish using the following technologies:
3-axis & 5-axis CNC Routing
Thermal Forming (Patented method)
Coating Operations (Several Types of Coating Available)
Secondary and Finishing Operations
Custom packaging Solutions
Multi-layered Laminate products
We are able to work with a variety of design software to assist in developing cutting edge parts.
Quality
Optic Armor Performance Windows has received our certification of the ISO 9100B:2004 Aerospace Quality Management Standard. This standard is internationally recognized as the highest level of Quality by over 130 countries.
Product Development
Optic Armor Performance Windows specializes in solving problems and meeting customer requirements. We have a strategic continual improvement plan in place, and are striving to make tomorrow's products available today.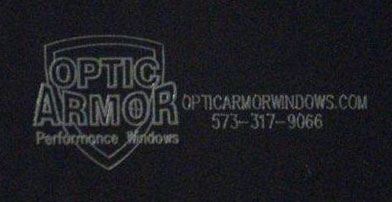 Our cnc controlled engraver gives us the ability to provide our customers with their own custom logo on Optic Armor windows
Please contact our knowledgeable sales staff for custom applications or to have your product issued for quoting (573) 317-9066.